THE RESTORATION  
The designers aimed for a radical yet elegant valorisation and modernisation of this historical building, from its filigree façade to the balanced harmony of the factory units, the spaces distributed between the rigour of the walls and the memory of the running balconies. The spaces are residential, even on the ground floor, with some retail areas. 
 
The completely redesigned internal courtyard is paved in Luserna stone laid in strips, with a green area in the centre. In this strip design, seating areas alternate with the medium-height trees.
text
The building belongs to the city's 19th century heart, defined by an urban fabric of the highest architectural quality: a parallel grid of blocks and courts, marked by elegant façades lining the main streets around the historical centre.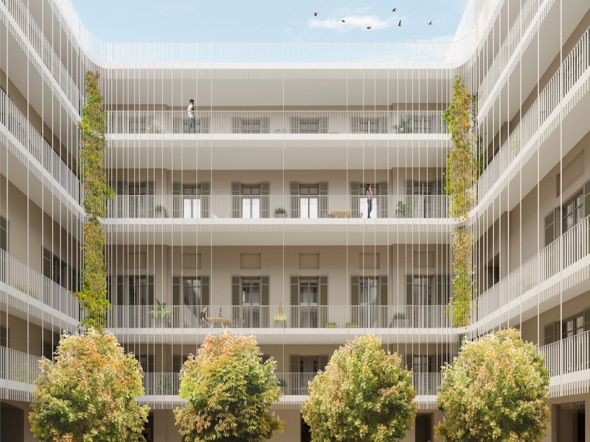 THE PROJECT
This project covers a total surface area of around 7,000 sq.m., with six floors above ground, with a total of sixty five apartments of different sizes, common spaces and parking. The solution aimed to preserve the external façade while renovating the internal facing, widening the running balconies and renewing the parapets and balcony structures.
INTERIOR DESIGN 
History dialogues with contemporaneity. Every feature has been designed in the finest detail, using the best materials and construction techniques and the best suppliers. The careful interior design has turned this building into an elegant contemporary residence